Welcome to the Hakatemia School of Hackcraft and Hackerdy!
In Hakatemia you will learn ethical hacking from professionals and get to practice real attacks safely in a training environment.
Good for beginners
No previous IT or cyber background required.
Gamified learning environment
You get experience points for successfully completing attacks. This makes learning more fun and allows you to compete with your friends. You can also link your Hakatemia profile to your CV.
Real targets
Hakatemia has numerous vulnerable targets that have been set up just for you, waiting for you to break into them.
Bots
In Hakatemia lab environment, you can also practice browser-side attacks against bots that use real Google Chrome browser.
Challenges
Hakatemia also has challenges that you can solve to test your skills.
Practice attacks and earn experience points
How does Hakatemia work?
On a regular learning platform, you watch videos, read texts, and complete assignments. These basic elements are also found in Hakatemia, but they are all just preparation for the core of Hakatemia: lab exercises. In Hakatemia labs, you get to perform attacks against real vulnerable targets and earn levels and experience points when you solve a task.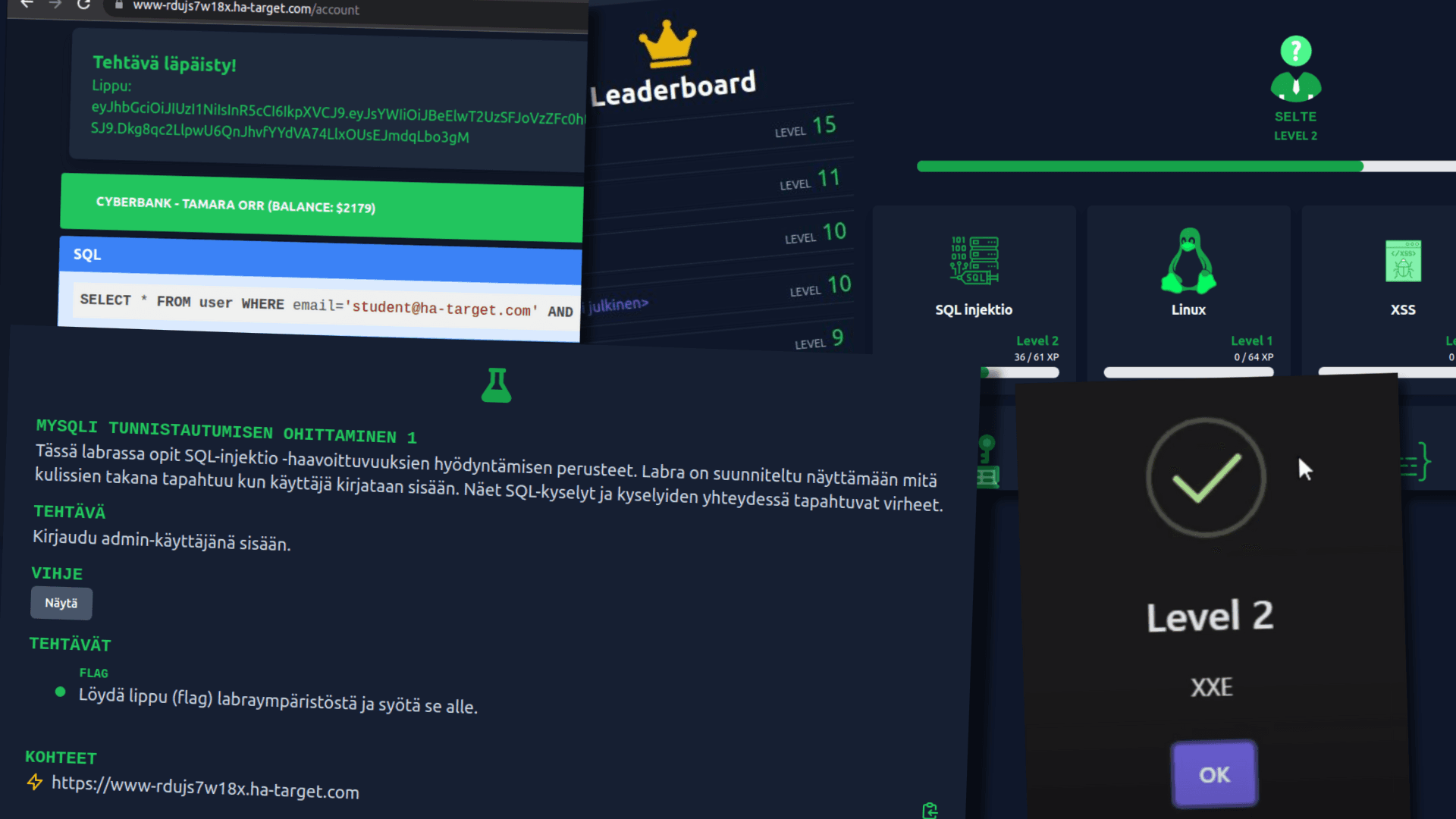 Watch video.

Many courses or modules have a video where the topic is covered.

Read material.

All modules include readable material consisting of text, images, questions, and exercises.

Start lab task.

You will be given your own server in a few seconds, where you will find a vulnerable web application. You are free to search for and exploit vulnerabilities in the application. Depending on the task, you will also have access to attacker resources, such as a Kali Linux terminal that opens in your browser, where you can run attack tools and receive connections.

Use tools.

As a Hakatemia PRO member, you will also have access to Hakatemia tools that make it easier to find and exploit vulnerabilities.

Enter flag on Hakatemia page.

When you complete a task, you will receive a flag from the lab environment. When you enter the flag on the Hakatemia page, you will earn experience points and progress in the course.

Climb the leaderboard.

Hakatemia has a leaderboard that always lists the top ten hackers in Hakatemia with their levels and experience points.
Metasploit, that pentester's swiss army knife
Sun, Oct 22, 2023
Welcome to Hakatemia's latest course! Metasploit is a popular attack framework that helps professionals identify and exploit security holes. In this course, you will go through the use of Metasploit and learn how it can be used to carry out attacks and find security holes.